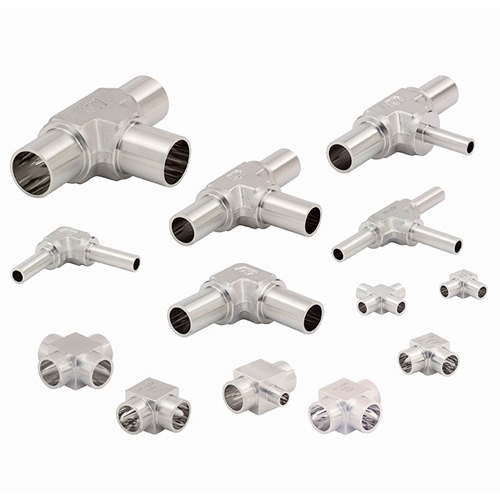 Hy-Lok weld fittings are available in butt weld, socket weld, automatic tube weld and as metal gasket face seal fittings.
Weld fittings for Ultra-high purity applications
For ultra-high purity applications, Hy-Lok weld fittings are electro-polished and packed in triple vinyl bags in a Class 10 environment.
Hy-Lok Weld Fitting features include:
Tapered socket weld ports to speed layout for proper tube fit and tube alignment.
Automatic tube weld and butt weld design
Size range from 1/8″ thru 1″ O.D. tubing
Mini and long tube end design
For more information, find a Hy-Lok distributor in your area.
Benefits
Hy-Lok weld fittings are high quality, so they will perform well under a multitude of conditions, minimizing contamination or unwarranted failure. Using a proven manufacturing approach, Hy-Lok consistently exceeds the required performance requirements and offers exceptional results for all industries requiring weld fittings to get their jobs done.
One of our representatives will gladly assist you with your production selection or answer any questions you may have regarding our fittings.
Instrument Weld Fittings
These various fittings have been strategically engineered and designed so they can serve a wide range of applications safely and accurately. These are designed to be used in chemical, pulp and paper, dairy, pharmaceutical, power generation, food, marine construction or ship building, beverage and all other kinds of industries requiring high-purity fittings. Whether your application requires 316 stainless, metric, imperial or special fitting needs, Hy-Lok USA has what you need. Our fittings include the union, union elbow, union tee, male connector, female connector, male elbow, female elbow, pipe weld to tube socket weld, tube weld to tube socket weld and more.